We are extremely proud to have been trusted by top riders from a range of disciplines for over 25 years.
Below are some of the riders part of #TeamSupreme
Robert Walker, Walker Show Team
Robert Walker is one of Britain's top showing producers who has racked up countless wins with his hunters, cobs, hacks and riding horses at the highest level. As a young adult he worked on his father's livery yard before setting up his own. Robert was voted the Showing Council/Showing World show rider of the year award just 24 hours after claiming the HOYS Hunter Championship for the first time on his horse Pride and Joy. His team has accumulated well over 50 victories over the years at HOYS, including Light Weight Hunter Champion, Medium Weight Hunter Champion, and Horse of the Year Supreme Champion in both 2021 and 2022!
@Walker Show Team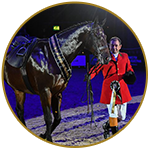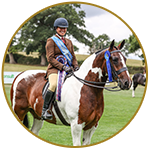 Vicky Smith, Vicky Smith Equestrian



Vicky has successfully evented and showed horses for many years. In 2018, after she won both the HOYS Non-Native Coloured class with Bart and the Lightweight Cob class with Bling Crosby, Vicky decided to professionally ride and produce. Vicky has had a very successful showing career including multiple wins at prestigious events including Windsor, RI, and HOYS. She has won the HOYS Non-Native Coloured class an impressive 3 times with Bart! 2022 was a good year for Vicky with some fantastic results including Supreme of Show at CHAPS UK Spring Show, Ridden Coloured Horse Champion at Royal Windsor, Hogged Cob Ridden Champion at RI and qualifying multiple horses for HOYS.
@Vicky Smith Equestrian
Sara Parrot & Craig Elenor, Craig Elenor Equestrian
Both Sara and Craig are well known faces in the show ring and need no introduction. Craig specialises in lead rein and in-hand production, while Sara rides and teaches. The team are regulars at HOYS and RIHS. They are based in North Yorkshire and have a string of exciting horses and ponies.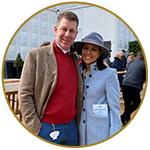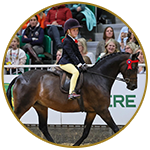 Anya Dewey-Clarke
Our junior rider Anya might only be 7 years old but she has a long list of successes already. During her debut year in the show ring in 2019, Anya won and stood champion at the Hickstead Derby, qualified for HOYS and RIHS, standing 4th at HOYS and 2nd at RI, and also won numerous other shows! In 2020 Anya used the time without shows to carry on practising her riding and is now a keen jumper as well as show rider! In 2021, Anya qualified 5 ponies for HOYS and stood Mini Show Pony Champions! You can follow Anya's progress on her Facebook and Instagram pages, Team DC Ponies.
Kate & Alex Williams, Ringside Stud
Kate and Alex Williams from The Ringside Stud produce and breed top-class Welsh Ponies and Cobs. The stud is home to multiple HOYS winners, HOYS finalists, RI finalists, Olympia finalists and Royal Welsh winners. Their impressive string includes 2022 Overall Welsh Section D Champion, Welsh Section D Gelding and Reserve Champion at the Royal Welsh show. In 2022 both Alex and Kate qualified for HOYS with 2 home-produced ponies, with Alex taking Welsh Section D Pony of the Year!
@Ringside Stud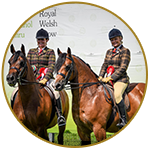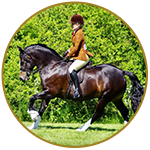 Nicole Wayman
Nicole Wayman, based at Brampton Stud in South Yorkshire, is a full-time social worker who produces and shows Welsh Ponies and Cobs alongside. Nicole regularly competes at Horse of the Year Show and won there in 2019. She has also won and had successes at The Royal Welsh Show having been Champion in 2019. Nicole likes to have her horses from foals/youngsters, showing them in-hand and then breaking them to be ridden ponies.
Leonie Holloway, Ribbons Stud
Ribbons Stud and Show team is home to the prolific winning miniature stallion, Scott Creek Monarch Red Graffiti. Horse of The Year Show Champion twice, reserve Champion three times and Supreme Royal International Horse Show Champion on two occasions, he is a born showman. He is also the sire to Ribbons Studs Allstars Graffiti in the Spotlight, who took Reserve Champion at Horse of the Year Show 2019. Ribbons Stud have some of the best miniatures in the country and have some fabulous youngsters coming through with Graffiti's amazing bloodlines.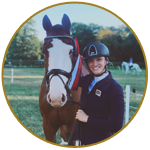 Emily King
Emily, daughter of eventing legend Mary King, has had a string of successes in her career to date. She first represented Great Britain at the age of 15 when she finished seventh individually, and won her first individual European medal at the 2012 Junior European Eventing Championships aged 16. Emily made her 4* debut at Pau Horse Trials in 2015, where she finished fourth and competed at Badminton for the first time in 2016. Since then, Emily has continued to enjoy success winning the under 25 CCI3* at Bramham International Horse Trials in 2018 and finished 3rd in the CCI4* there in 2019. 
Hayley Watson Greaves, HWG Dressage
Hayley is a professional international Grand Prix Dressage Rider and BD registered trainer. Hayley has a yard of top-class Warmbloods, including Rubins Nite (Squeaks) whom she won her

first international on in Barcelona 2014. The pair were then selected as a non-travelling reserve for the Rio Olympic Games 2016, won the Supreme British Dressage National Championship 2017, and competed at the World Cup final in Paris 2018.

Hayley and Squeaks have been part of the World

Class Podium Potential Squad since 2013

. Hayley trains with

Olympic dressage rider Carl Hester and was previously trained by Olympic Rider Jane Gregory (nee Bredin) and Adam Kemp. Hayley has been part of many teams winning both team medals and individual Gold.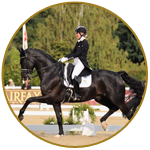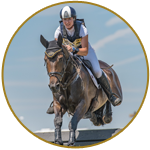 Hollie Swain, Hollie Swain Eventing
Hollie Swain is a New Zealand event rider who is currently located in the UK. Coming from a family who are highly regarded as one of the region's leading racehorse trainers, as well as growing up with a Pony club lifestyle, Hollie has a range of knowledge and expertise when it comes to horses. She is currently riding for Olympic Bronze medal winner Jonathon Paget, and is aiming to build her own team of horses and sponsors to compete for New Zealand.